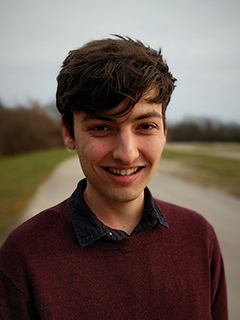 Daniel Whitworth (b. 1996) is an award-winning composer and saxophonist dedicated to expanding the relevancy and accessibility of contemporary music. He is working towards a Bachelor's Degree from Lawrence Conservatory of Music, where he studies primarily with composers Asha Srinivasan and Joanne Metcalf, and saxophonists Steven Jordheim, and Sumner Truax.

Daniel's music strives to engage with audiences on a meaningful level. Having written about topics ranging from mental health, immigration, poetry, and war, he is committed to pushing social change through art. Daniel is the recipient of a number of awards, most recently winning first prize in the 2018 Wisconsin Alliance for Composers Composition Contest. He has also received instruction and guidance from other composers such as Marcos Balter, Stacy Garrop, Andrew Seager Cole, and Evan Williams.

As a saxophonist, Daniel is interested in presenting repertoire as part of a larger picture. To give his performances depth and purpose, Daniel frequently collaborates with dancers, visual artists, and actors. As a soloist, Daniel has performed extensively throughout the Midwest and was recently awarded second prize in the Lakeshore Young Artist Competition. He later performed Ingolf Dahl's Concerto for Alto Saxophone with the Lakeshore Wind Ensemble. In 2016, Daniel was admitted into the American Saxophone Academy at the Eastman School of Music where he studied with prominent saxophonists such as Tim McAllister, Otis Murphy, and Kenneth Tse. In that same year, he traveled to London where he studied extensively with saxophonist and composer John Harle.

Daniel is currently working on programming a recital of music containing themes of American injustice, featuring both his own compositions as well as contemporary works for the saxophone. He is also working on commissioned works for several ensembles while in the process of applying to graduate programs.